Bike of the month!
New for 2015 we are going to be bringing you some of our favourites bikes from around the place and picking a favourite to feature as bike of the month!
So without further a due we give you, Phil's Harley!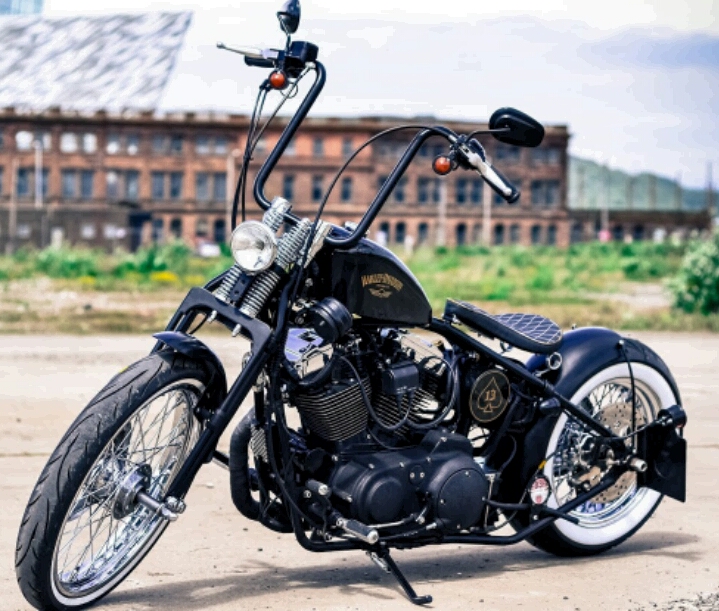 So step right up contestant number!
Whats your name and where do you come from?
I'm Philip Moore, 29 and I'm from Belfast
It's a lovely bike you have there mate, what made you want to build?
I grew up watching american chopper, and I loved all things motorbikes. I had several sports bikes but I always wanted to build my own bobber. I liked american chopper but I always thought the bikes they build were a bit to much for my taste. I like the nice simple looking old school bikes.
how long was the build start to finish?
It took me about a year in total from start to finish. I was only working on it when I had a spare minute between working full time and having a new baby about the house. I had planned to finish it for the early summer but I got meningitis and it put a bit of delay on everything.
Yeah meningitis will throw a bit of a spanner in the works? a side from that any other speed bumps?
I had a few issues with the engine mounts and fitting the engine in as the engine is offset to allow for the 200 rear at the back.
What made you choose the bobber style?
I love the older style with the large but not ridiculously large rear wheel. Legs out front hands up high nothing beats it when you are cruising along.
Couldn't agree more mate, love a bit of wind in my beard haha, I love the gold detailing on the black ace of spades any significance there? or did you just like it?
I picked black and gold because I though it had a nice richness to it without being tacky. The Ace of spades with the 13 in it symbolizes the year the bike was born 2013. The Ace of spades had been used as the highest wanted card in the American army's target list and from my point of view finishing my bike for 2013 was my target to achieve.
You recently won the bsh readers bike of the month, congratulations on that, and now gracing our humble pages! any plans to take the bike to shows this year? which ones?
Yeah I will take it to most of the shows here in the Northern Ireland circuit (Hog n Bog, Belfast Custom bike show etc) and possibly get across for the bulldog bash.
Bulldog bash is a good one we will be in attendance, I'd like to get to some Irish shows too, Any future plans for the bike?
Possibly want to put up swept exhausts on the bike but for now I am very happy with it and plan to enjoy taking it out this year.
Top man thanks for your time Phil get out and enjoy.
Well how about some picture's of Phil's bob? here you go!
Well hopefully like us you find this bob an awesome bit of kit and hopefully one of many home grown bikes from some cracking builders around these fair isles!
If you'd like to have your bike featured then please contact features@happychoppers.co.uk
All the best folks and until next time thanks for reading!
Moe
All pictures are property of Philip Moore and content property of happy choppers inc.