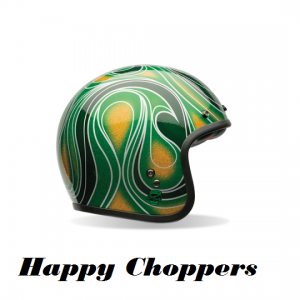 The new Bell helmet is here! it's called the Bell Custom 500, This lid has always been one of the coolest old school lids around and up until now was only available from the states as an import and carrying a DOT label that wasn't recognised in the UK so wasn't technically legal to wear.
But have no fear! this one is fully certified safe and tested, the main benefit to this new lid is that it has five different shell size's and a low profile design so no more looking like a Martian with this bad boy!
the lid comes in 10 colours standard colours, and bucket loads of customs catering from the nice standard colours through to the more out there colours like the one featured in our picture and thanks to its fibreglass construction weighs in at featherweight 1200 grams, it has built in pop fasteners to allow fitting of after market visors and has a comfortable padded double d-ring chin strap.
Bang for Buck
Retailing at just £129.99 we think this modern classic lid is a brucie bargain! as far as open face lid that don't cost a massive wad of cash go, we think you can't go wrong with the New Bell Custom 500.
Eye Candy
The main bit of eye candy with this lid is actually not what you see but would other people see, with it's lower profile having this on won't make you look like, well, a bell! the huge astronaut/ plastic afro look is no more!
The second and equally important bit of eye candy is that these lid's even in the plain colours look amazing, the quality in the paint is obvious when it's in your hand plus the custom colours available are frankly awesome! there's loads of variations available and the price doesn't sky rocket with the candy and custom colours.
Quality
Bell have been leaders in the helmet field for years and years and there's a pretty good reason for it, this lid has an advanced fibreglass shell, a high quality liner, and as mentioned in the eye candy section the paint quality is high. Bell must have faith in themselves too as this lid comes with a five year warranty.
Ease of use
One must insert ones cranium into the pre-assigned cranial reception orifice to engage proper usage.
No seriously it's pretty easy to work a helmet, you stick you loaf in the big hole bit, the d rings can be a bit fiddly if you've never used them before but that's not really bell fault
Happy Chopper Reckons
What do we reckon? well, the general consensus is good job bell, this is a cracking little lid for a pretty decent price, the quality is good, the fact that it comes in a bunch of different colours means that you and your chums won't look the same. The Bell Custom 500 pretty much ticks every box which is why it ranks top marks, the only knark if I had to find one is the name, it's to long
Good lid, Good price, it's going to be a popular choice
Don't get ripped off by people charging a premium for these bad boys, get em here for £129.99
The new Bell Custom 500
Bang for Buck

Eye Candy

Quality

Ease of Use

Happy Chopper Reckons
What We Thunk
In short you should buy one, if open face's and piss pot's are your gig you'll love this one.
Bell has been the daddy for a good while and looks like they will stay that way for another 50 years!